Categories

Cross-referenced terms
parchment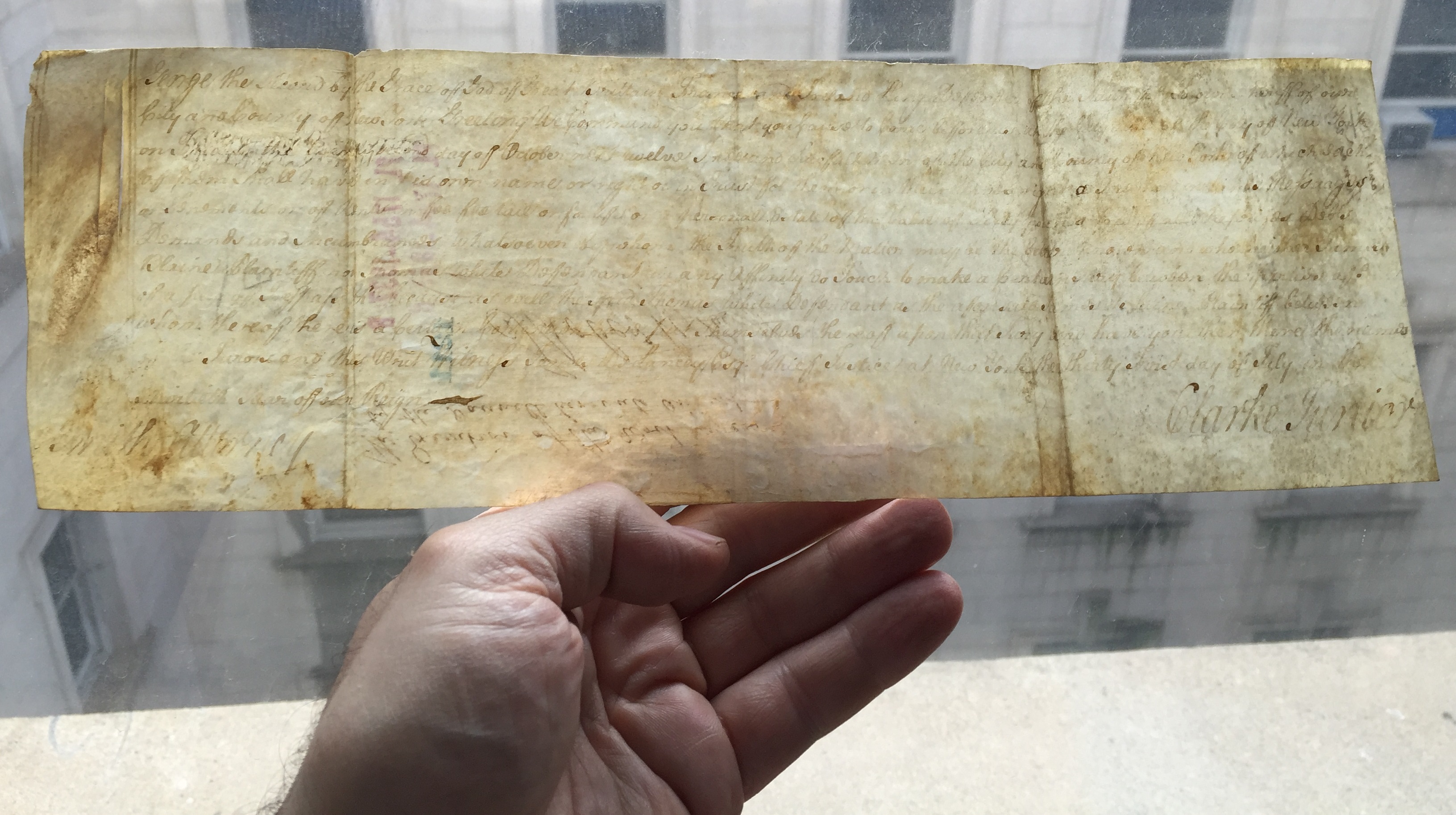 n.
a writing material made from stretched and scraped sheepskin or goatskin
Hughes 1958, 141The deeds in chain of title leading to the purchase of Independence Square and its historic buildings by the City of Philadelphia from the Commonwealth of Pennsylvania on June 29, 1818, were found—some 148 paper and parchment documents, dating back to 1682.
Powers 1978, 298Ideal humidity varies with the type of material being exhibited: for paper, the range is between 40 percent and 50 percent; for leather, 45-55 percent; and for parchment or vellum, 50-65 percent.
Ritzenthaler 2010, 79Vellum and parchment were used extensively in the Middle Ages as writing surfaces for manuscripts; vellum also has been used since this period as a covering material in bookbinding. Traditionally, true vellum is the unsplit skin of a young calf, while parchment is made from spit sheepskin.
AAT 2017[parchment (animal material)] Translucent or opaque material made from calf, sheep, or goat skin which has been limed, dehaired, scraped, and dried under tension to produce a thin, strong material for writing, bookbinding, or other uses. For finer quality calf parchment, use "vellum." The terms parchment and vellum sometimes have been and still are both confused and used interchangeably.
a document created on this material
Wake 1948, 11Removals, amalgamation of firms and the demand for old parchments for the manufacture of toys and lampshades led to serious losses which are still going on. The holocaust of historical material which took place in the salvage campaigns of the late war, with the cognizance and largely on the orders of Government departments, has made forever impossible the writing of any fully detailed and comprehensive history of local administration.
Grover 1955a, 3We also have several other parchments that we insist are charters—in fact the very best of charters: the Declaration of Independence, the Constitution, and the Bill of Rights.
Breck 1966, 176Hence, the allied sciences—linguistics, geography, chronology, diplomatics, sigillography and heraldry, paleography, archeology, epigraphy, numismatics, and genealogy—are honored parts of this training. Indeed, without them, the archivist would have been unable to make a dent in the formidable pile of parchments remaining from that period.
McCrank 1993, 266Nevertheless, some two hundred parchments survive from before 986, when the scribes reassembled their writings and began copying documents held outside Barcelona for later use in the rebuilt capital.
a translucent paper with an appearance that imitates such writing material
Smith 1938, 53Japanese paper and a kind of parchment paper are her chief materials. Missing portions are supplied with the parchment paper, and the joins are covered with Japanese paper, pasted down with thin flour paste. Gradually increasing pressure is an essential step in repair, as usual.
Notes
Parchment

1

is often used to include vellum, although vellum is a similar material made from calfskin.